If you're here for answers to the big questions like "Why do we cook bacon and bake cookies?", we'd have to disappoint you. But we can certainly help with the following:
GENERAL QUESTIONS
WHY DO I HAVE PROBLEMS SIGNING IN?
Perhaps you've entered the wrong user ID (email address or mobile number) and/or password. Try the 'Forgot Password' feature to receive a password reset email at your registered email address. To have your password changed for future logins, follow the instructions in the email and you should be on your way.
If you do not receive a password reset email in your inbox (or junk folder), it's likely that you've entered the wrong email address. Tried a half dozen email addresses and still got nothing? You can always reach out to our Customer Service at info@cicrocodile.com for assistance.
HOW DO I PLACE AN ORDER?
Create an account OR sign in.
Go gaga while browsing our online store.
Select the object of your desire. Indicate the colour and size, then add it to your shopping cart for purchase. Make your payment by credit card upon checkout.
You'll receive an email confirmation with an order number upon the successful completion of your transaction. (A small note: the order confirmation doesn't guarantee stock availability. We'll notify you as soon as possible should your item be out of stock.)
PAYMENT, DELIVERY AND ORDERS
WHAT FORMS OF PAYMENT DO YOU ACCEPT?
We accept all Visa and Mastercard debit and credit cards.
HOW MUCH DOES DELIVERY COST AND WHEN WILL I RECEIVE MY ORDER?
We've put all that info in nice fancy tables for you.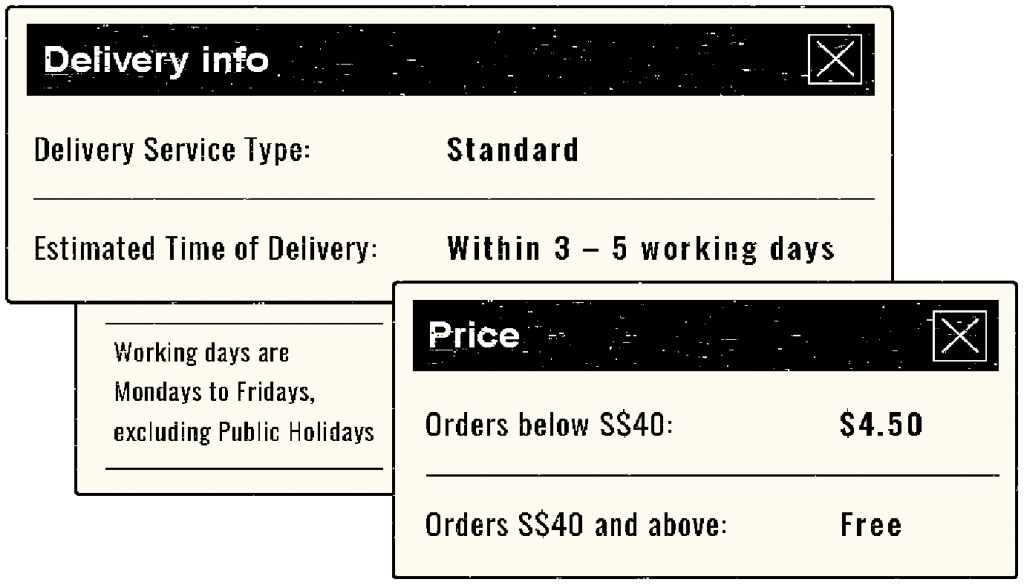 WHERE DO YOU DELIVER?
We deliver to any address within mainland Singapore. We're sorry, but we currently do not ship to offshore islands (e.g. Pulau Ubin, Sentosa), restricted zones and international destinations.
WHAT IF AN ITEM IN MY ORDER GOES OUT OF STOCK?
All products on our website are offered on an "as is" and "as available" basis. In normal human language, that is if any items in your order are out of stock, it may take longer than the stipulated time to fulfil the order. In these instances, our friendly customer service people will contact you and make further arrangements.
WHAT IF THERE'S NO ONE HOME WHEN A DELIVERY IS MADE?
Fret not. Our delivery provider will make another attempt to deliver. If unsuccessful, the item(s) will be returned to us and your order will be refunded.
CAN I TRACK THE DELIVERY OF MY ORDER?
Yes you can. A tracking number will be sent to your email for each order confirmation so you can stalk it all the way to your doorstep.
HOW DO I CHECK MY ORDER STATUS OR REPORT MISSING/DAMAGED ITEMS?
Shoot us an email at info@cicrocodile.com stating your order number along with any questions regarding your order. We'll get back to you as soon as we can within 3 working days.
RETURNS & EXCHANGES
WHAT IS YOUR RETURN AND EXCHANGE POLICY?
In the unfortunate event you're not satisfied with the product, you may email us at info@cicrocodile.com for an exchange or a refund within 7 days from the date of purchase. We'll then evaluate and process your refund/exchange request within 3 working days.
Please retain the order invoice as it must be presented for an exchange or return. The exchanged or returned product(s) must be in its new and original condition, with original product packaging and original tags and labels attached.
CROCODILE INTERNATIONAL PTE. LTD. reserves the rights to reject any exchange or return that do not fulfil the above stated requirement. CROCODILE INTERNATIONAL PTE. LTD. reserves the right to amend this policy at any time.
WHAT IS THE RETURN/EXCHANGE PROCESS LIKE?
It's as easy as 123 (okay, and maybe 4567). Just follow the steps below:
1
Email us at info@cicrocodile.com with your order number and reason for return/exchange within 7 days from the date of purchase.
2
When your return/exchange request is successful, you'll receive a Return Tracking ID via email from us. Enter the ID here.
3
Next, pick a preferred date and time, and tell us where we should pick up your order from.
4
Pack your order invoice and item(s) with its original packaging and tags in a sealed bag, envelope or box.
5
Write the Return Tracking ID on the package.
6
You're all set! Now you'll just have to wait for the delivery driver to arrive at the specified time and pick up the package from you.
7
Once we receive your items in their original condition, your order will be exchanged or fully refunded (including a refund of original delivery fees).
OTHER ENQUIRIES
NONE OF THE ABOVE ANSWERS MY QUESTION. WHAT CAN I DO???
Don't worry, it's not the end of the world. Just email us at info@cicrocodile.com.
Sit tight and we'll come back to you soon within 3 working days.